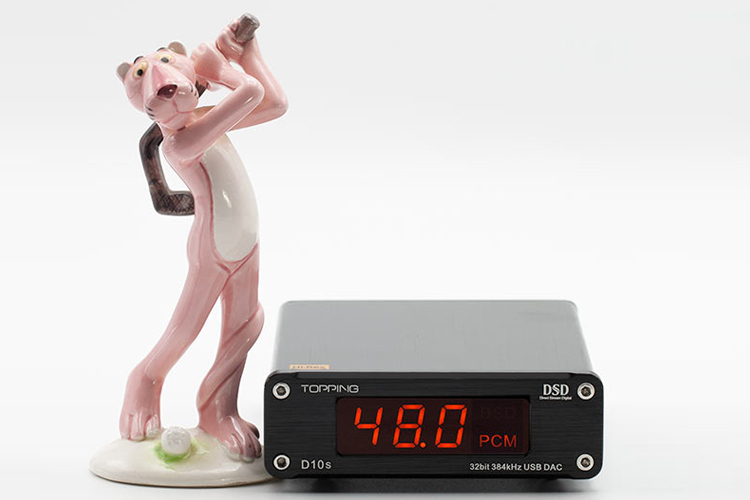 Topping D10s USB DAC and Bridge Review
Friday, 11 September 2020

0

1274

0
This is a review and detailed measurements of the Topping D10s USB DAC and S/PDIF plus Toslink bridge. It was kindly sent to me by the company for testing. The D10s has a retail cost of US $99.

Let me start by confessing that the original D10 was one of my favorites with its cute orange display, and very reasonable cost. I was pleased that the former was kept the same although the price seems to have increased some:




The back panel is as before:




Note that the Toslink and S/PDIFs are outputs, not typical inputs. The Toslink can for example be used to break ground loops when feeding another DAC downstream of it.

As you see the markings, and like other Topping products, they enjoy full regulatory safety and emissions certifications.

DAC Audio Measurements
As usual we start with our dashboard of 1 kHz digitally created ton and examine what analog results we get:




Nice! SINAD which is the sum of distortion and noise has risen by 6 dB, placing the D10s at the dinner table with bigger boys:




Distortion is incredibly low at -120 dB which is well below threshold of hearing. In other words, you have assured transparency.

Signal to noise ration is likewise very good:



There is one filter which is the "correct" one, which we sadly don't see often:



Intermodulation+noise shows excellent response at the limit:




The curve never tilts up which indicates distortion is always less than the noise floor.

32-tone test signal resembling "music" shows how well distortion is controllled:




THD+N versus frequency using much wider bandwidth than the dashboard test is such:




Jitter is visually a bit cluttered but objectively and subjectively is more than fine:




Linearity is perfect:




Finally if you are going to reduce volume upstream of the DAC, here is how the performance varies:




If your amplifier requires 1 volt to reach its maximum power, your DAC SINAD is between 107 to 110 dB depending on channel. This means if you have an amplifier with SINAD of 100 dB, the DAC contributions will be insignificant (you want upstream devices to be 10 dB better).

Conclusions
My favorite little DAC has grown up in performance and to some extent in price. Measured performance is stellar for the category leaving just enough gap for state-of-the-art DACs to make a living with higher performance and cost. If you want a very performant DAC, that is nice to look at but doesn't cost you much, D10s is for you. And oh, the USB to S/PDIF and Toslink bridge is a bonus (or demerit if you need those as inputs).

I am happy to strongly recommend the Topping D10s DAC.
Click here to buy TOPPING D10S

100% authentic guarantee
As the global official authorized distributor, we guarantee that the products sold online are 100% authentic and come from the factory directly.
Low price guarantee
To encourage you to shop with confidence on our website, we hereby introduce the lowest price guarantee policy:
1) Before your purchase, if you find a lower price on other websites, we will match it with more competitive price.
2) Within 30 days from the time you place an order from our website(aoshidaaudio.com), if you find a lower price on another website, we will match it and return the price difference
3) If our website launches a discount within 30 days of your purchase, we will refund the price difference to you actively.
4) Conditions to be met for refunding the difference: Brand name+ product + model are the same; The cost is denominated in US dollars; Price is based on total price; The product must be adequately stocked, not a discount of a limited amount and time; Advertising errors caused by printing or low prices due to special prices are not refundable.
5)How to request a price match: you could chat with us online, or click facebook, or email us: toppingdacaudio@gmail.com at any time within 30 days,
30 days return guarantee
Our website has a worry-free return policy, please rest assured to buy, the details are as follows:
1) Within 30 days after receiving the order, if you are not satisfied with the product, you can send it back to us and get a full refund.
2) All the accessories of the returned product must be original and complete and will not affect the secondary sales.
3)How to request a return service: you could chat with us online, or click facebook, or email us: toppingdacaudio@gmail.com at any time within 30 days,
Extended one year warranty
Products purchased from our website can enjoy a total of 2 years of after-sale warranty service. In addition to the one-year factory warranty service, we will give you an additional year of warranty service from our website.